The 43rd Annual Bayou City Art Festival | Oct. 11th-12th, 2014
by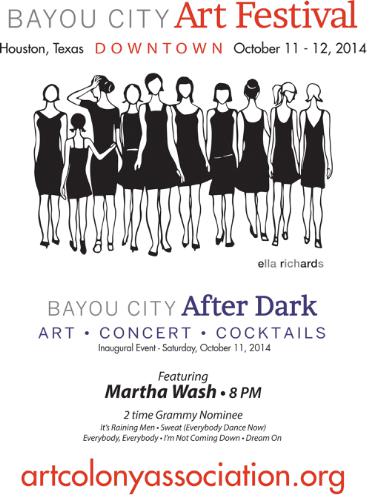 43rd Annual Bayou City Art Festival Downtown, One of the Top Ten Juried Art Festivals in the Nation, Debuts "Bayou City After Dark" With Headliner Martha Wash
HOUSTON, Sept. 24, 2014 /PRNewswire/ — Bayou City Art Festival Downtown 2014, produced by Art Colony Association, proudly introduces "Bayou City After Dark," a can't miss downtown destination event. Enjoy fine art, drinks and live performances by Martha Wash of The Weather Girls, C+C Music Factory and Black Box fame, as well as Grady Gaines & The Texas Upsetters on Saturday, October 11, 2014 from 5 to 9:30pm.
Susan Fowler, Executive Director of the Art Colony Association said, "We are extremely excited to launch After Dark with the twice Grammy nominated Martha Wash and hometown favorite Grady Gaines & The Texas Upsetters. We thought this would be the perfect addition to the festival, offering a place to relax, drink and listen to great music on a Saturday night downtown."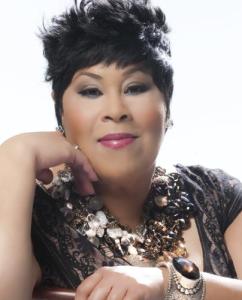 With Houston's iconic skyline as a backdrop, 300 national and international juried fine and visual performing artists working in 19 media will turn Downtown Houston into an entertainment mecca from 10am to 9:30pm on Saturday, October 11 and from 10am to 6pm on Sunday, October 12. Discounted, advance tickets are on sale now through September 30, 2014 at http://bit.ly/1spW6kV.
Known to many as "the Queen of Clubland," Martha Wash is the voice behind some of the most well-known pop hits of all time, including: It's Raining Men, Sweat (Everybody Dance Now), Strike It Up and her latest singles, Dream On and the I'm Not Coming Down Remix.
Kicking off the evening is award-winning Grady Gaines & The Texas Upsetters who recorded numerous classics, with Little Richard including: Long Tall Sally, Send Me Some Lovin' and Whole Lotta Shakin' Goin' On.
NOMAD Sound of Austin, Texas will debut live painting and architectural video mapping performance pieces, projected in real time onto Houston's downtown buildings.
About Bayou City Art Festival:
Now in its 43rd year, the Art Colony Association has raised more than $35 million for local nonprofit programs through the festivals. This collaborative nonprofit event puts 100 percent of the proceeds back into the community through ACA's 16 nonprofit partners. The Festivals are funded in part by grants from the City of Houston through the Houston Arts Alliance, corporate sponsorships, private contributions, in-kind support and volunteer assistance. For more information, please visit artcolonyassociation.org
SOURCE Bayou City Art Festival