Brian Culbertson's 3rd Annual Napa Jazz Getaway | June 11th-15th, 2014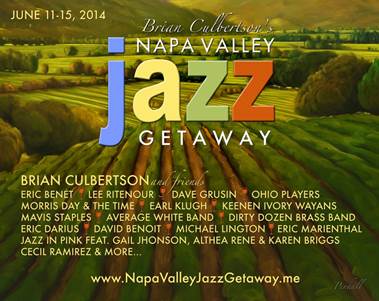 Growing Jazz Getaway offers a divine taste of Napa
Brian Culbertson assembles an array of jazz & funk stars for the 2014 Napa Valley Jazz Getaway.

Los Angeles, Calif. (7 October 2013): While in the midst of the vineyards last June to shoot a promotional clip for the third annual Napa Valley Jazz Getaway, the flourishing jazz and wine festival's Founder and Artistic Director Brian Culbertson looked into the camera and vowed "More artists, more music, more food and of course, more wine." The hit-making contemporary jazz and R&B mixologist is making good on his promise with the unveiling of the powerhouse lineup of jazz and funk artists that will perform for the many thousands of Getaway attendees who will come from all over the U.S. to Napa Valley from June 11-15, 2014.
Slated to join Culbertson for five-days of concerts, wine tastings, fine dining and unique social opportunities are Eric Benét, Lee Ritenour, David Grusin, Ohio Players, Morris Day & The Time, Earl Klugh, Mavis Staples, Average White Band, Dirty Dozen Brass Band, Eric Darius, David Benoit, Michael Lington, Eric Marienthal, Jazz in Pink featuring Gail Jhonson, Althea Rene and Karen Briggs, Cecil Ramirez and the comedic mind of Keenen Ivory Wayans.
VIP Packages are already sold out with Four-day Gold Packages ($499) on sale now through the Napa Valley Jazz Getaway website (www.NapaValleyJazzGetaway.me). Two-day Silver Packages ($229) will go on sale in late November.
The 2014 Napa Valley Jazz Getaway will open with several VIP-only events as well as an exclusive Welcome Dinner Concert and Jam Session at renowned chef Cindy Pawlcyn's Wood Grill and Wine Bar with a performance by the Cecil Ramirez Quartet along with Culbertson and saxophonist Lington for which a separate ticket is required (available through the Getaway website for $125). The Thursday night theme concert on June 12th will be Jazz Legends at the Lincoln Theater, which will also be the venue for Friday Night Funk Night. The music moves outdoors on June 14 & 15 to the breathtakingly beautiful setting at Jamieson Ranch Vineyards for concerts that run from 4-10:30 PM. Afternoon happenings during the Napa Valley Jazz Getaway include a cigar and port event hosted by Lington with Ramirez and daily Wine Downs at the luxurious Westin Verasa Napa, the host hotel that for the first time will be solely reserved for guests of the Getaway. The Westin Verasa will also be the scene for the hot Late Night Hangs scheduled for Thursday through Saturday evenings post-concert during the Getaway at which fans can meet and mingle with the artists after their stroll down the Cab Carpet. As in previous editions of the Getaway, silent and live auctions will be held to benefit The GRAMMY® Foundation, which supports music education programs in schools, a mission of Culbertson, who raised nearly $100,000 for the organization during the first two Napa Valley Jazz Getaways.
Culbertson said, "It is extraordinary how much the Napa Valley Jazz Getaway has grown in just our third year and I'm so excited about our incredible lineup for 2014, our biggest and best yet. In addition to being joined by these legendary artists, I continue to invite more exquisite wineries to be involved with the Getaway as well as many more unique restaurants to be present at our outdoor events to provide a true 'taste of Napa' experience. I look forward to welcoming wine and jazz enthusiasts to the beautiful Napa Valley once again."
Culbertson is an award-winning multi-instrumentalist, songwriter and producer who became a fan favorite for the vitality and prodigious skills that he brought to contemporary jazz ever since the release of his 1994 debut disc, "Long Night Out," signaled the arrival of a consistently creative and engaging artist. The keyboardist and trombonist is back in the recording studio working on his 14th collection, a remake of the first album that he made in his crowded apartment bedroom "studio" while he was a 20-year-old college student. But this time out, instead of playing most of the instruments himself, he will be joined by an all-star collective of contemporary jazz artists comprised of many of the musicians that inspired him while recording the original. "Another Long Night Out" will be released in February 2014 in conjunction with the 20th anniversary of the first record. Additional information about Culbertson is available at www.BrianCulbertson.me.

Highlights of the 2013 Napa Valley Jazz Getaway can be viewed at https://www.youtube.com/watch?feature=player_embedded&v=oaRaeCnhO6Y.