The 26th Annual JAS Labor Day Experience | Sept. 2nd-4th, 2016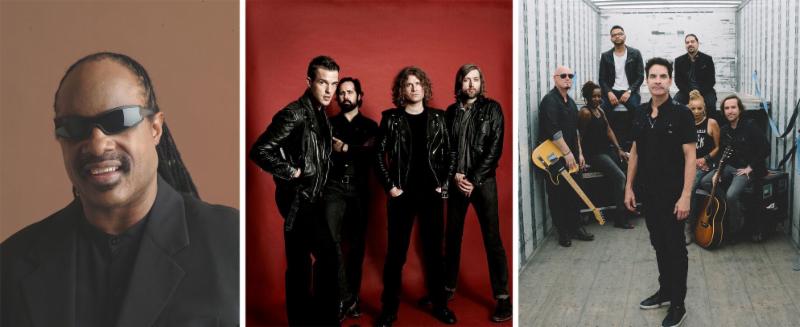 Stevie Wonder, The Killers, Duran Duran,
Train, Thievery Corporation, Andy Grammer and More
Performing at the JAS Labor Day Experience Sept. 2-4, 2016
Tickets On-Sale Now
Jazz Aspen Snowmass has just released their 26 Annual Labor Day Experience line-up, once again raising the bar with the level of talent the non-profit organization is bringing to the Roaring Fork Valley, including performances from 25-time Grammy® Award-winner Stevie Wonder, American rockers The Killers, veteran pop-rockers Duran Duran, widely popular Train, electronic duo Thievery Corporation and pop artist Andy Grammer. Many of these artists will be making exclusive summer Colorado appearances in what is one of the most diverse and electrifying line-ups in JAS' history.
The Experience kicks-off on Friday, September 2 with San Francisco roots/rock Grammy® Award-winning band Train closing. Led by vocalist Pat Monahan, Train is known for delivering memorable songs that capture the listener's imagination like "Drops of Jupiter," and "Hey, Soul Sister." Opening on Friday will be American singer/songwriter Andy Grammer. Grammer's hit single "Honey, I'm Good," was certified triple-platinum in 2015, followed by the popular single "Good to be Alive (Hallelujah)."
On Saturday, September 3, Las Vegas-based band The Killers will make their first ever JAS appearance. Formed in 2003 the band has sold over 25 million albums worldwide and received countless accolades for their artistic achievement, including multiple Grammy® and American Music Award nominations. They've headlined nearly every major American music festival, including Coachella and Lollapalooza.
Thievery Corporation, the duo consisting of Eric Hilton and Rob Garza, will perform prior to The Killers at 5pm on Saturday. The two have spent nearly two decades creating boundary-warping, complexly crafted electronic music, partly inspired by bossa nova's intricate rhythms and lush textures.
Closing the Labor Day Experience on Sunday, September 4, will be iconic American singer, songwriter, musician and producer, Stevie Wonder. Wonder is one of the most celebrated and prominent figures in popular music, who at the age of 13 was the youngest recording artist to have achieved a #1 single. To date he has amassed 49-Top Forty singles, 32-#1 singles and worldwide sales of over 100 million units. He has won 25 Grammy® Awards, the prestigious Grammy® Lifetime Achievement Award, a Golden Globe and an Academy Award. He is a rare member of that small, elite group of artists whose appeal is so wide across genres and generations, that they are easily identified by just their first name.
"In JAS' first 25 years we have been privileged to present many great Artists and a handful of truly iconic artists," says Jim Horowitz, JAS Founder and President. "As we embark on our second 25 years, Stevie Wonder is, without question, the most important and iconic artist to ever headline JAS."
Pop music veterans Duran Duran will perform prior to Wonder on Sunday. At the dawn of the '80s, a group of young men in Birmingham, England had a sound in their ears, one with echoes of glam, art-pop, and dance. The band they formed quickly became a household name and, three decades later, Duran Duran have sold over 100 million records and continue to perform for screaming fans all over the world. With the release of their 14 studio album, Paper Gods, with star producers Mark Ronson and Mr. Hudson, the band simply keeps on proving that there will never be another like them.
The 3pm acts for both Saturday and Sunday will be announced at a later date.
Tickets to the JAS Labor Day Experience are on-sale now, including a discounted 3-Day Pass, individual day tickets and JAS Deck tickets. Deck tickets include complimentary beer and wine, afternoon grille fare, private restrooms and an elevated viewing platform. JAS will be releasing a very limited amount of Early Bird tickets at the on-sale, available only why supplies last. A full listing of these prices along with next tier pricing can be found on their website. Child tickets (ages 4-12) for each individual day will also be available on Tuesday. To purchase tickets please visit www.jazzaspensnowmass.org or call 866-JAS-TIXX (527-8499). Tickets will also be available at the Belly Up Box Office in Aspen.
Three-day Patron (VIP) passes are available now at
www.jazzaspensnowmass.org or by calling 970-920-4996
For information on ticket and lodging packages please contact
800-SNOWMASS or visit www.gosnowmass.com
For more information Jazz Aspen Snowmass events, education programs and
more please visit www.jazzaspensnowmass.org or call JAS at 970-920-4996
DL Media