The Rite Marketing Celebrity Fashion Show in Las Vegas | Feb 19th, 2016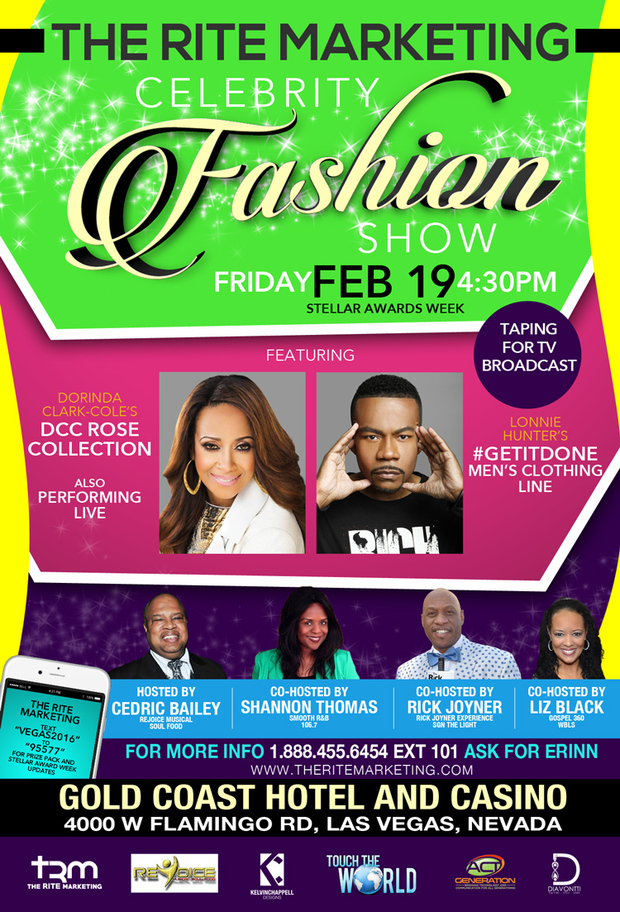 The Rite Marketing Celebrity Fashion Show
Featuring Dorinda Clark Cole, Lonnie Hunter and more!
Make plans to attend the only Celebrity Fashion show coming to Las Vegas during Stellar Awards week!!! The Rite Marketing will host a star-studded fashion show featuring Dorinda Clark Cole's DCC Rose Collection and Lonnie Hunter's #GetItDone Men's Clothing Line. The co-hosts for this extravaganza will be gospel musics favorite radio personalities: Cedric Bailey (Rejoice Musical Soulfood), Shannon Thomas (Smooth R&B 106.7), Rick Joyner (The Rick Joyner Experience/SGN The Light), and Liz Black (Gospel 360/WBLS).
The Rite Marketing Celebrity Fashion Show
The Gold Coast Hotel
Las Vegas, NV
Friday, February 19 @ 4:30PM
Contact: 888-455-6454 ext 101
http://www.theritemarketing.com/
The Bellamy Group on behalf of The Rite Marketing