The Fontana JazzFest in Fontana, Ca. | Feb. 22nd, 2020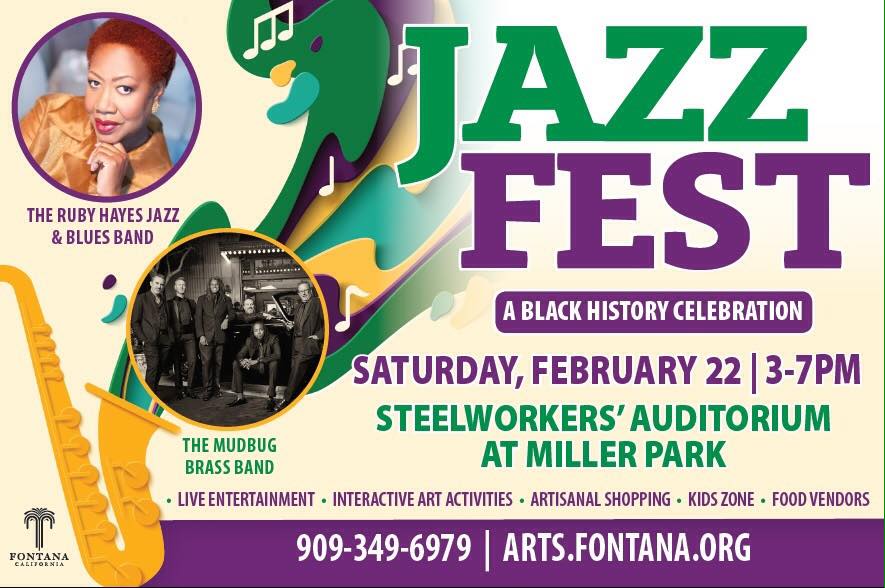 The Fontana Arts JazzFest in Fontana, Ca. – Feb. 22nd, 2020. 3pm-7pm
FREE ADMISSION!
Celebrate Black History Month at the Fontana Arts JazzFest on Saturday, February 22, 2020, from 3:00 p.m. to 7:00 p.m. at the Steelworkers' Auditorium (8437 Sierra Ave.) at Miller Park. The auditorium will be filled with lively colors, bluesy music, and entertaining acts. This event will showcase jazz music performances, dances, and honor African American achievements.
A star-studded lineup of artists in music, art, and dance that promise to bring out the best in jazz culture. The JazzFest will dazzle with performances like gospel singer Valerie Singleton Evans voted "Best of LA", The Mudbug Brass Band (Louisiana rooted brass band), Ruby Hayes Jazz & Blues Band and the award-winning jazz group The Blue Breeze Band.
The JazzFest is not only celebrating the history of jazz music, but it will be an interactive experience for all ages. There will be numerous art activities, artisanal shopping, a variety of food and beverages, and community booths. The Fontana Art Depot will be hosting a painting workshop and art activities that will highlight various African American influencers and movements. Attendees can purchase art pieces and specialty items at the artisanal shopping area and explore a broad selection of delicious food and beverages.
Come celebrate the extraordinary heritage and history of jazz during Black History Month at the City of Fontana. Admission is free for everyone.