The 5th Annual Highmark Blues & Heritage Festival | Sept. 14th-15th, 2022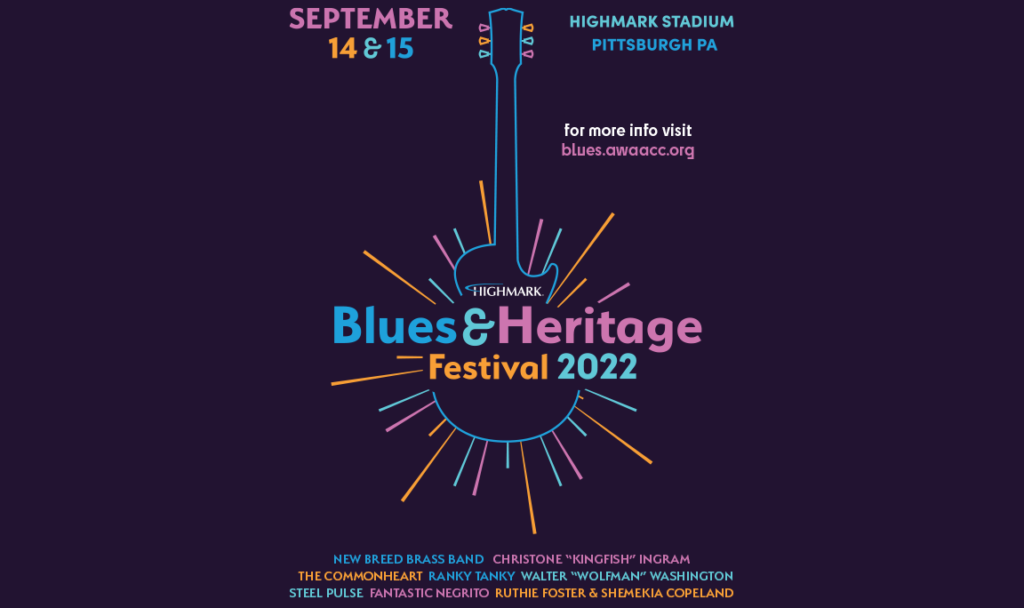 The World May Be Empty without the Blues, but the Highmark Blues
& Heritage Festival Is Full of Tradition and
Seasoned with Sounds That Touch the World
The Fifth Annual Highmark Blues & Heritage Festival,
Produced by the August Wilson African American Cultural Center
and Presented by Highmark Blue Cross Blue Shield,
Takes Over Pittsburgh's Highmark Stadium September 14-15, 2022
PITTSBURGH, PA, August 30, 2022 – "The blues help you to get out of the bed in the morning. You get up knowing you ain't alone. There's something else out there in the world. Something's been added by that song. This be an empty world without the blues. I take that emptiness and try and fill it up with something." So, says Ma Rainey in August Wilson's renowned play, Ma Rainey's Black Bottom.
The blues is an attitude. Something deep inside. A matter of the human condition that can't be named, only felt. It can find its way into any place. Piedmont. Chicago. Mississippi Delta. Texas. Memphis. And the blues can shape and shift into different forms. It can be soul. R&B. Zydeco. Hip-hop. Swamp. Gospel. Funk. Reggae. No matter what the region, no matter what the style, the blues takes the hurt and pain and confusion of the world, calls it out, and answers it with a sense of peace or redemption or joy. The blues tells us we're not alone in this world. And it tells us that we don't have to be.
As the soundtrack of struggle, the narrative of collective experience and the backbeat of community, the blues in all its different forms is a tradition that lives on with the Highmark Blues & Heritage Festival. Produced by the August Wilson African American Cultural Center (AWAACC) and Presented by Highmark Blue Cross Blue Shield, the fifth annual festival takes place September 14-15 at Highmark Stadium (510 W. Station Square Drive).
2022 ARTISTS
The 2022 Highmark Blues & Heritage Festival is more than just a series of concerts, it is a celebration—one that doesn't draw boundaries, but instead expands them, finding the communal spirit of the blues through all its different regions, forms and styles traditions and cultures.
Taking the Highmark stage will be reggae legends Steel Pulse. Blues powerhouse Shemekia Copeland and singer/songwriter Ruthie Foster. Funk and R&B singer/guitarist Walter "Wolfman" Washington. Blues, soul, and roots songwriter Fantastic Negrito. In addition, be ready to groove to music coming Mississippi (Christone "Kingfish Ingram), from New Orleans (New Breed Brass Band), the Gullah culture of the southeastern Sea Islands (Ranky Tanky) and some of Pittsburgh's finest players (The Commonheart).
For the complete roster and schedule of the Highmark Blues & Heritage Festival on September 14-15 at Highmark Stadium, please check out the Daily lineup.
OUR BEST LITERATURE
Ma Rainey, Bessie Smith, Ethel Waters, Muddy Waters, B.B. King, Buddy Guy. Pianist Pine Top Smith, who lived in Pittsburgh for some time, and in 1928, became the first person to record what he coined boogie-woogie—not only changing the history of blues, but arguably what later would become rock and roll. Name just about any blues legend, and you'll find they all made the scene on Wylie Avenue over the decades. Each of them carried the burdens of their moments of history, bringing us together in the ongoing human struggle for freedom and dignity, as if to say it would be all right, that we could get through it together.
And the same remains true today. Says Janis Burley Wilson, President & CEO of the August Wilson African American Cultural Center, "The Highmark Blues & Heritage Festival is about hope, roots, and the connections that music creates across races, neighborhoods, and beliefs, and as the blues inspired August Wilson, it continues to inspire listeners today."
It's no wonder that August Wilson once said the blues is "the best literature we have." It was true then. And it's true now.
TICKET INFORMATION
Tickets, starting at $30, are on sale now at https://blues.awaacc.org. Individual day passes as well as two-day passes are also available. For additional details and the complete festival line-up, please visit http://blues.awwaacc.org.
SPONSORS
The Highmark Blues & Heritage Festival would like to thank its sponsors, including Highmark Blue Cross Blue Shield, Allegheny County Airport Authority, AARP, River's Casino, and the Libation sponsor, Bacardi. Partners include Adda Coffee and JazzCorner. A special thank you to Highmark Blues & Heritage Festival and Pittsburgh International Jazz Festival special media sponsor, The Comcast Corporation.
ABOUT HIGHMARK INC.
One of America's leading health insurance organizations and an independent licensee of the Blue Cross Blue Shield Association, Highmark Inc. (the Health Plan) and its affiliated health plans (collectively, the Health Plans) work passionately to deliver high-quality, accessible, understandable, and affordable experiences, outcomes, and solutions to customers. As the fourth-largest overall Blue Cross Blue Shield- affiliated organization, Highmark Inc. and its Blue-branded affiliates proudly cover the insurance needs of approximately 6.8 million members in Pennsylvania, Delaware, New York and West Virginia. Its diversified businesses serve group customer and individual needs across the United States through dental insurance and other related businesses. For more information, visit www.highmark.com.
ABOUT AUGUST WILSON AFRICAN AMERICAN CULTURAL CENTER
The August Wilson African American Cultural Center is a non-profit cultural organization located in Pittsburgh's cultural district that generates artistic, educational, and community initiatives that advance the legacy of Pulitzer Prize-winning playwright August Wilson. One of the largest cultural centers in the country focused exclusively on the African American experience and the celebration of Black culture and the African diaspora, the non-profit organization welcomes more than 119,000 visitors locally and nationally. In 2022, the Center opened August Wilson: The Writer's Landscape, the first-ever permanent exhibition dedicated to the life and work of the prolific playwright. Through year-round programming across multiple genres, such as the annual Pittsburgh International Jazz Festival, Black Bottom Film Festival, AW Community Days, TRUTH Sayers speaker series, and rotating art exhibits in its galleries, the Center provides a platform for established and emerging artists of color whose work reflects the universal issues of identity that Wilson tackled, and which still resonate today. http://www.awaacc.org
Carolyn McClair Public Relations