The 5th Annual Gotham Jazz Festival | April 16th, 2023 – WATCH VIDEO!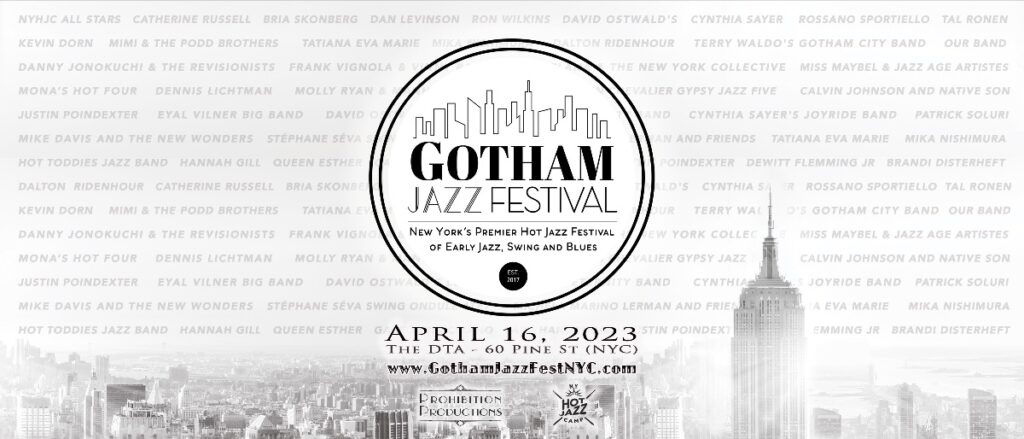 GOTHAM JAZZ FESTIVAL is this Sunday, April 16th at The DTA – New York's Premier Hot Jazz Festival of Early Jazz, Swing & Blues has 100+ musicians & 20+ bands incl. Catherine Russell, Bria Skonberg, Frank Vignola, Danny Jonokuchi, Eyal Vilner, Hannah Gill, Queen Esther, Terry Waldo, Michela Lerman & more++
April 11, 2023 – Prohibition Productions and New York Hot Jazz Camp are pleased to announce their partnership for the 5th annual GOTHAM JAZZ FESTIVAL to be held this Sunday, April 16th (1pm to 12am) at The DTA on 60 Pine Street, in lower Manhattan.
The GOTHAM JAZZ FESTIVAL is an annual all-day music festival featuring New York City's best hot jazz, swing & blues bands and musicians, at the stunning & exclusive private club from the Gilded-Age, The DTA. Five different ballrooms, Galleries, and lounges will feature back-to-back performances by over 100 musicians & more than 20 bands.
The Festival was founded in 2017 by ​Prohibition Productions​ (Patrick Soluri), and premiered at the Players Club that Spring. In 2018 Prohibition Productions partnered with ​New York Hot Jazz Camp​ (directed by Molly Ryan & Bria Skonberg) to feature performances by their incredible faculty, students, & alumni. The New York Hot Jazz Camp, held at the Greenwich House Music School and now in its 6th year, is an intimate and immersive week-long educational experience where adults work with the city's top traditional jazz players.
The Festival is divided into two halves, and guests may attend either half, or buy a full day pass. General Admission and VIP tickets are available. Tax deductible donations are possible and include VIP Tickets. Tickets are available online or at the door.
Dancers, concert goers, and music enthusiasts are invited to enjoy this collaboration and 11 hour musical marathon featuring an eclectic star studded line-up:
NYHJC All-Star Band:
Catherine Russell, Bria Skonberg, Dan Levinson, Ron Wilkins,Cynthia Sayer, Rossano Sportiello, Tal Ronen, Kevin Dorn.
EYAL VILNER BIG BAND
FRANK VIGNOLA & VINNY RANIOLO
DANNY JONOKUCHI & THE REVISIONISTS
MONA'S HOT FOUR – led by Dennis Lichtman
STÉPHANE SÉVA SWING ONDULE 4TET (from France)
TERRY WALDO'S GOTHAM CITY BAND feat. Tatiana Eva Marie
HOT TODDIES JAZZ BAND feat. Hannah Gill & Queen Esther
David Ostwald's LOUIS ARMSTRONG ETERNITY BAND
SVETLANA & THE NEW YORK COLLECTIVE
MIKE DAVIS & THE NEW WONDERS
CYNTHIA SAYER'S JOYRIDE
OUR BAND w/Justin Poindexter
MIMI & THE PODD BROTHERS
ADRIEN CHEVALIER GYPSY JAZZ 5
MICHELA MARINO LERMAN & FRIENDS
MOLLY RYAN & MANHATTAN PREMIERE
MISS MAYBEL AND THE JAZZ AGE ARTISTES
CALVIN JOHNSON & NATIVE SON
BIG FRANK & THE HEALERS
solo pianists:
DALTON RIDENHOUR, MIKA NISHIMURA, SPIKE WILNER, TERRY WALDO,
DJ ANDRIUS
—
The DTA is located at 60 Pine Street, New York, NY 10005
Limited reserved VIP seating available // Tickets start at $35
More information including schedule, tickets and sponsorship opportunities may be found at www.gothamjazzfestnyc.com
Gotham Jazz Festival is produced by:
Prohibition Productions and New York Hot Jazz Camp
2023 Festival Sponsors:
Turtle Bay Records // You Should Be Dancing…! Dance Center // Haar & Co Barbershops // Zelda Magazine // Frim Fram Jam // Jeeves NYC
Jazz Promo Services