The Love Shack Play @ The Wilshire Ebell Theatre in L.A. | Feb. 20th-21st, 2016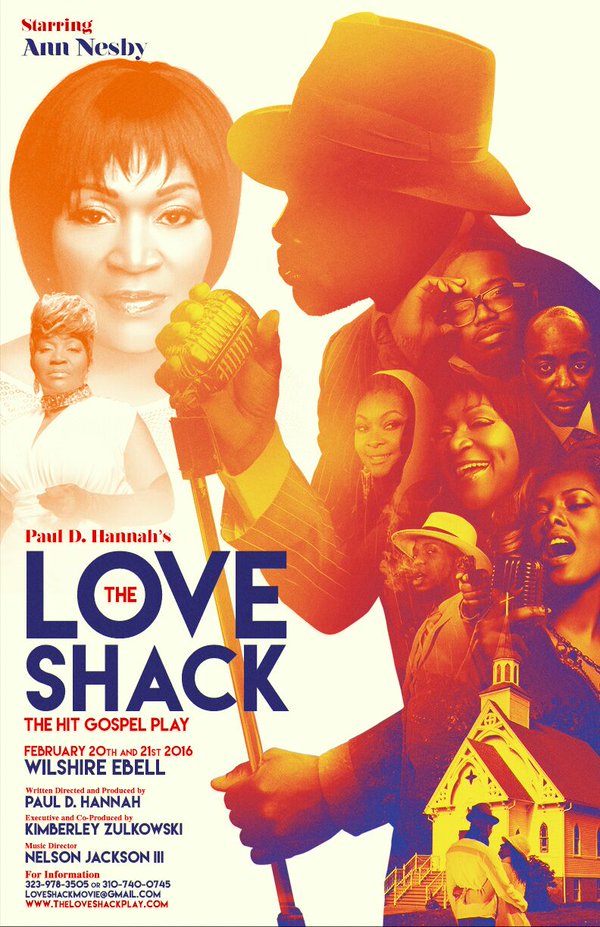 THE LOVE SHACK PLAY AT THE WILSHIRE EBELL THEATRE, LOS ANGELES, CA
With Dave Hollister, Ann Nesby, Damita Chandler, Eric Dawkins, L Young and more!
When: Saturday February 20-21, 2016
Synopsis: The Love Shack is a gospel musical filled with exuberant singing, Joyful dancing and strong character performances. It's the story of Melvin Love, a famous R&B singer raised in a group home in Chicago (affectionately called The Love Shack). At age 13, Melvin started a successful career singing R&B music. Called to ministry, He eventually retired from singing R&B and opened a church by the same name (House of Love).
Fast forward ten years; he is still Senior Pastor at the Love Shack, but is challenged and convicted when a stranger accuses him of having too much entertainment and not enough substance in his services. Pastor Love, now conflicted with the resonating truth to the statement, fears the resentment that may result from toning his services down, realizes that the only way he can drastically change things is to do something extreme. In a hilarious twist, he chooses to fake his own death allow the stranger to implement the changes and resurrect with the ability to finally put his old act (singing act) to rest.
Group Sales available for parties of 20 or more available and Pastor with wife attend for FREE!
Contact Cheryl Stabler 661.803.9421 for groups
Individual tickets at http://www.theloveshackplay.com
THE LOVE SHACK PLAY
February 20-21, 2016 – The Wilshire Ebell, Los Angeles, CA
Paul D. Hannah, Writer, Producer and Director
Kimberley T. Zulkowski, Executive Producer and Co-Producer
Promo Video: https://vimeo.com/user12990652/review/151254894/28808d7eee
http://www.paulhannah.com
Website: theloveshackplay.com
Twitter: @LoveShackMovie1
Facebook: Click this link to connect to Facebook page
Instagram: @TheLoveShackMovie
Periscope: @TheLoveShackPlay