The SummerStage 2016 in New York City | May 16th – September 23rd, 2016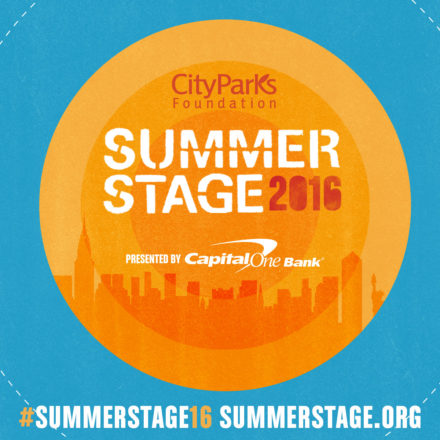 City Parks Foundation announces
SUMMERSTAGE
Presented by Capital One Bank
Season runs May 16 – September 23
More than 100 FREE Music, Dance, Comedy, Family,
Film and Theater programs
in 16 Parks Across all 5 Boroughs of New York City
April 20, 2016 – New York, NY– City Parks Foundation is proud to announce the 2016 season of SummerStage, New York City's largest free performing arts festival, bringing more than 100 free performances to Central Park and 15 neighborhood parks throughout the five boroughs. With performances ranging from American pop, Yiddish Soul, and Taiwanese music to dance, comedy and theater, SummerStage will feature more than 200 unique artists, filling a vital niche in New York City's summer arts landscape, ensuring that New Yorkers will have access to exceptional cultural experiences, free of charge. Since its inception 31 years ago, SummerStage has benefited more than six million people from New York City and around the world.
Having highlighted hip-hop music and culture in 2013 and salsa and Latin music in 2014, the festival is thrilled this year to honor another distinctly New York musical form: Jazz. The 2016 season of SummerStage will both showcase exceptional performing artists from around the globe, and will also feature more jazz performances than ever before, with nearly half a dozen planned for Central Park and many more in neighborhood parks across the city. The focus on jazz this season coincides with the upcoming centennial of the musical dawning of the term "jazz," as well as what would have been the 100th birthdays of late jazz greats including Dizzy Gillespie, Thelonious Monk, and Ella Fitzgerald.
Living jazz legends McCoy Tyner, Ron Carter, and Roy Haynes will kick off the festival in Central Park on June 4, with the first free show of the season. Other notable performances will include the acclaimed Kamasi Washington, also in Central Park; jazz trumpeter Terence Blanchard in Staten Island's Clove Lakes Park performing Breathless, a work based on the final words of borough native Eric Garner; pre-eminent soul jazz vocalist Dianne Reeves in Queensbridge Park; and Stefanie Batten Bland presenting an interdisciplinary dance collaboration with jazz ensemble Burnt Sugar the Arkestra Chamber also in Queensbridge Park. The annual, three-day Charlie Parker Jazz Festival, New York City's annual salute to the late saxophonist, will feature performances from Jason Lindner: Breeding Ground, Randy Weston African Rhythms Sextet, and DeJohnette – Moran – Holland. The final free show of the 2016 season will celebrate the 20th anniversary of the hit Jazz Age Broadway musical, Chicago, with performances from the current cast.
SummerStage is thrilled to welcome Comedy Central back to the festival for a guaranteed laugh-filled evening of stand-up from The Daily Show with Trevor Noah. Accompanying a screening of A Ballerina's Tale, the 2015 documentary on African-American principal ballerina Misty Copeland, award-winning choreographer Jeremy McQueen will present "The Black Iris Project," a premier ballet collaborative celebrating diversity in art and dance. Roger Guenveur Smith will perform his one-man show, Rodney King, which explores the very timely and sensitive issues of police brutality. Other highlights include reggae sensation Alpha Blondy in Harlem's Marcus Garvey Park; Latin soul icon Joe Bataan in St. Mary's Park in the South Bronx; the return to Central Park of the folk rock duo Indigo Girls, whose last performance at SummerStage took place using generators during the 2003 blackout; hip-hop greats Public Enemy in Brownsville's Betsy Head Park, and electronic rockers Neon Indian in East River Park.
"At City Parks Foundation, we believe culture should be convenient and affordable for everyone. Our SummerStage festival removes the barriers to culture, bringing world-class artists, topical and popular, to neighborhood parks across all five boroughs, free of charge," said Heather Lubov, Executive Director of City Parks Foundation. "SummerStage brings together New York's diverse communities in authentic and meaningful ways, making high quality performing arts — from music to spoken word, circus and contemporary dance — truly accessible. We are thrilled to bring another season, filled with exceptional artistry, to communities across the City."
"The SummerStage festival celebrates the rich cultural fabric of New York City," said Erika Elliott, Executive Artistic Director of City Parks Foundation. "This year, we'll celebrate the 100th anniversary of jazz, with both emerging and master musicians, who will highlight the long legacy jazz has in the city and its continued impact on New Yorkers."
"Capital One is proud to once again support SummerStage as it celebrates New York's artistic energy and creativity," said Michael Slocum, President, Commercial Banking and Northeast Regional President, Capital One. "The arts build communities and enrich lives, and this remarkable festival embodies our commitment to investing for good in the diverse communities where our associates live and work."
The complete SummerStage schedule follows. For the most up-to-date scheduling and line-up for all SummerStageprogramming, follow SummerStage via the below links and visit www.SummerStage.org for festival information.
Twitter: @SummerStage
Instagram: @SummerStage
Facebook: SummerStage NYC
About City Parks Foundation
City Parks Foundation is the only independent, nonprofit organization whose mission is to offer programs in public parks throughout the five boroughs of New York City. At City Parks Foundation, we are dedicated to invigorating and transforming parks into dynamic, vibrant centers of urban life through sports, arts, community development, and education programs for all New Yorkers. Our programs and community building initiatives — located in more than 300 parks, recreation centers, and public schools across the city — reach 425,000 people each year. Our ethos is simple: we believe thriving parks reflect thriving communities.
SummerStage 2016 Schedule
Day

Date

Time

Artist

Park

Boro

Genre

Saturday

Jun 4

6:00 PM

The Legends Honor McCoy: McCoy Tyner Quartet / Ron Carter / Roy Haynes, in association with Blue Note Jazz Festival

Central Park

MN

Music

Saturday

Jun 11

3:00 PM

Cymande / KING / Deva Mahal / DJ Parler, in association with Okayplayer

Central Park

MN

Music

Monday

Jun 13

7:00 PM

DJ Hard Hittin' Harry / Screening: Afripedia,in association with African Film Festival, Inc.

Saratoga Park

BK

Music & Film

Tuesday

Jun 14

7:00 PM

Red Hook Park

BK

Music

Wednesday

Jun 15

7:00 PM

Red Hook Park

BK

Music

Wednesday

Jun 15

7:00 PM

Yiddish Soul: A Concert of Cantorial and Chassidic Superstars

Central Park

MN

Music

Thursday

Jun 16

7:00 PM

Red Hook Park

BK

Music

Friday

Jun 17

7:00 PM

Red Hook Park

BK

Theater

Saturday

Jun 18

7:00 PM

Red Hook Park

BK

Dance

Saturday

Jun 18

6:00 PM

Kamasi Washington, in association with Blue Note Jazz Festival / Pre-Show Panel

Central Park

MN

Music

Sunday

Jun 19

4:00 PM

DJ Rich Medina / RAAA / Urban Word & Hi-Arts: Journal to Journey / Ziearre

Red Hook Park

BK

Family

Monday

Jun 20

7:00 PM

Screening: In My Father's House with Q&A with Rhymefest, in association with ImageNation

Saratoga Park

BK

Film

Tuesday

Jun 21

6:00 PM

Fête de la Musique: CharlElie Couture / Yael Naim / General Elektriks / La Femme

Central Park

MN

Music

Tuesday

Jun 21

7:00 PM

Betsy Head Park

BK

Music

Wednesday

Jun 22

7:00 PM

Betsy Head Park

BK

Music

Wednesday

Jun 22

8:00 PM

Metropolitan Opera Summer Recital Series featuring Angel Blue, Ben Bliss, Alexey Lavrov, and Dan Saunders

Central Park

MN

Music

Thursday

Jun 23

7:00 PM

Betsy Head Park

BK

Music

Friday

Jun 24

7:00 PM

Nuyorican Poets Cafe featuring Mahogany Browne's Redbone and reg e gaines' The Last Celebrity

Betsy Head Park

BK

Theater

Friday

Jun 24

7:00 PM

Metropolitan Opera Summer Recital Series featuring Angel Blue, Ben Bliss, Alexey Lavrov, and Dan Saunders

Brooklyn Bridge Park

BK

Music

Saturday

Jun 25

7:00 PM

Betsy Head Park

BK

Dance

Saturday

Jun 25

3:00 PM

Butler, Bernstein, and the Hot 9 / The Hot Sardines / Bria Skonberg and the New York Hot Jazz Festival All-Stars featuring Anat Cohen, Vince Giordano, Wycliffe Gordon, Joe Saylor and Dalton Ridenhour, in association with the New York Hot Jazz Festival

Central Park

MN

Music

Sunday

Jun 26

4:00 PM

Christian Cultural Center C3 Choir / Mr. Reed / Boots Step Team / DJ Styff, in association with ARTs East New York Inc.

Betsy Head Park

BK

Family

Sunday

Jun 26

7:00 PM

DJ Gringo / Screening:Queen Nanny: Legendary Maroon Chieftainess, in association with African Film Festival, Inc.

Betsy Head Park

BK

Music & Film

Sunday

Jun 26

5:00 PM

Only in Queens Summer Festival featuring Ginuwine / Mack Wilds / Kid 'n Play

Flushing Meadows Corona Park

QN

Music

Sunday

Jun 26

8:00 PM

Comedy Central Presents: The Daily Show with Trevor Noah Stand-Up in the Park

Central Park

MN

Comedy

Monday

Jun 27

7:00 PM

Felix Hernandez's Rhythm Revue / Screening: 20 Feet From Stardom,in association with ImageNation

Saratoga Park

BK

Music & Film

Monday

Jun 27

7:00 PM

Central Park

MN

Music

Tuesday

Jun 28

7:00 PM

Lisa Simone / Screening:What Happened Miss Simone?, in association with ImageNation

Herbert Von King Park

BK

Music & Film

Wednesday

Jun 29

8:00 PM

Screening: A Ballerina's Tale / Jeremy McQueen's Black Iris Project / Pre-Show Panel

Central Park

MN

Dance & Film

Wednesday

Jun 29

7:00 PM

Soul in the Horn featuring Theo Croker, Maurice Mobetta Brown, Marcus Machado / Kendra Foster / DJ Natasha Diggs. Hosted by DProsper.

Herbert Von King Park

BK

Music

Thursday

Jun 30

7:00 PM

Herbert Von King Park

BK

Music

Friday

Jul 1

7:00 PM

Herbert Von King Park

BK

Dance

Saturday

Jul 2

7:00 PM

Central Park

MN

Music

Saturday

Jul 2

7:00 PM

Herbert Von King Park

BK

Music

Sunday

Jul 3

3:00 PM

King Sunny Adé / Orlando Julius and the Afro Soundz / DJ Rich Medina, in association with World Music Institute

Central Park

MN

Music

Sunday

Jul 3

7:00 PM

Herbert Von King Park

BK

Music

Tuesday

Jul 5

7:00 PM

Crotona Park

BX

Music

Wednesday

Jul 6

6:00 PM

Mexrrissey / Los Cafres / La Dame Blanche, in association with Latin Alternative Music Conference

Central Park

MN

Music

Wednesday

Jul 6

7:00 PM

Crotona Park

BX

Music

Thursday

Jul 7

7:00 PM

Crotona Park

BX

Music

Thursday

Jul 7

7:00 PM

Metropolitan Opera Summer Recital Series featuring Michelle Bradley, Kang Wang, Yunpeng Wang, and Dan Saunders

Clove Lakes Park

SI

Music

Friday

Jul 8

6:00 PM

Leon Larregui / Rodrigo Amarante / Grenda, in association with Latin Alternative Music Conference

Central Park

MN

Music

Friday

Jul 8

7:00 PM

Crotona Park

BX

Theater

Varies

Jul 8 – Jul 31

8:00 PM

Classical Theatre of Harlem Presents Macbeth

Marcus Garvey Park

MN

Theater

Saturday

Jul 9

7:00 PM

Acrobuffos / Rob & Miss Jane / Sxip's Hour of Charm / It's Showtime NYC

Crotona Park

BX

Circus

Saturday

Jul 9

7:00 PM

Metropolitan Opera Summer Recital Series featuring Michelle Bradley, Kang Wang, Yunpeng Wang, and Dan Saunders

Jackie Robinson Park

MN

Music

Sunday

Jul 10

3:00 PM

Justin Roberts & the Not Ready For Naptime Players / Mister G / Excerpts fromFinding Neverland / Gizmo Guys

Central Park

MN

Family

Sunday

Jul 10

7:00 PM

Crotona Park

BX

Music & Film

Monday

Jul 11

7:00 PM

The Metropolitan Opera Summer Recital Series featuring Michelle Bradley, Kang Wang, Yunpeng Wang, and Dan Saunders

Socrates Sculpture Park

QN

Music

Tuesday

Jul 12

7:00 PM

St. Mary's Park

BX

Music

Wednesday

Jul 13

7:00 PM

St. Mary's Park

BX

Music

Wednesday

Jul 13

7:00 PM

The Metropolitan Opera Summer Recital Series featuring Michelle Bradley, Kang Wang, Yunpeng Wang, and Dan Saunders

Crotona Park

BX

Music

Thursday

Jul 14

7:00 PM

St. Mary's Park

BX

Music

Friday

Jul 15

7:00 PM

Felix Hernandez's Rhythm Revue / Screening: We Like It Like That

St. Mary's Park

BX

Music & Film

Saturday

Jul 16

6:00 PM

Central Park

MN

Music

Saturday

Jul 16

7:00 PM

Full Circle Souljahs Presents:

From The Streets To The Stage/Behind The Groove / Master Class: Kwikstep and Rokafella

St. Mary's Park

BX

Dance

Sunday

Jul 17

4:00 PM

Legacy Women / Recess Monkey / Music with a Message / Double Dutch Dreamz

St. Mary's Park

BX

Family

Sunday

Jul 17

3:00 PM

Paulo Flores / Herencia de Timbiquí / Monsieur Periné / DJ Greg Caz / DJ Manny

Central Park

MN

Music

Monday

Jul 18

7:00 PM

Central Park

MN

Music

Tuesday

Jul 26

7:00 PM

Black Moon & Smif-N-Wessun, performing a tribute to Enta Da Stage & Dah Shinin'

Queensbridge

QN

Music

Wednesday

Jul 27

8:00 PM

Central Park

MN

Dance

Wednesday

Jul 27

7:00 PM

Queensbridge Park

QU

Music

Thursday

Jul 28

7:00 PM

Queensbridge Park

QU

Music

Friday

Jul 29

7:00 PM

Nuyorican Poets Cafe: Paolo Javier and Maria Lisella host a night of Queens Poets

Queensbridge Park

QU

Theater

Saturday

Jul 30

7:00 PM

Stefanie Batten Bland with Burnt Sugar the Arkestra Chamber / Master Class: Karisma Jay

Queensbridge Park

QU

Dance

Saturday

Jul 30

7:00 PM

Unknown Mortal Orchestra / Empress Of, in association with Okayfuture

Central Park

MN

Music

Sunday

Jul 31

4:00 PM

Marc Cary: The Harlem Jam Sessions / Joseph Webb: Dancing Buddhas / WBGO Kids Jazz Concert Featuring Brianna Thomas & The Jazz Travelers

Queensbridge Park

QU

Family

Sunday

Jul 31

7:00 PM

Rock Steady Crew 39th Anniversary with Nice & Smooth / Bahamadia and more

Central Park

MN

Music

Tuesday

Aug 2

7:00 PM

Clove Lakes Park

SI

Music

Wednesday

Aug 3

7:00 PM

Screening: Kirikou and the Wild Beasts / Orisha's Journey / DJ Djib Sayo, in association with African Film Festival

Clove Lakes Park

SI

Music & Film

Thursday

Aug 4

7:00 PM

Clove Lakes Park

SI

Music

Friday

Aug 5

7:00 PM

Clove Lakes Park

SI

Music

Saturday

Aug 6

6:00 PM

Monobloco / Cabruêra / Boogarins / DJ Luiz Santos, in association with Brasil Summerfest / Pre-Show Panel

Central Park

MN

Music

Saturday

Aug 6

7:00 PM

Complexions Contemporary Ballet / Master Class: Jamel Gaines

Clove Lakes Park

SI

Dance

Sunday

Aug 7

4:00 PM

Secret Agent 23 Skidoo / Sierra Leone Dance Troupe / Wahoo Skiffle Crazies, in association with the Staten Island Arts Folklife

Clove Lakes Park

SI

Family

Sunday

Aug 7

7:00 PM

Igmar Thomas & the Revive Big Band present: A Journey Through the Legacy of Black Culture, produced by Revive Music / Pre-Show Panel

Central Park

MN

Music

Tuesday

Aug 9

7:00 PM

East River Park

MN

Music

Wednesday

Aug 10

7:00 PM

"We Play For You, Butch Morris" featuring Nublu Orchestra / DarkMatterHalo with Wadada Leo Smith / Screening: Black February

East River Park

MN

Music

Wednesday

Aug 10

8:00 PM

Tamar-kali with ASE Dance Theatre Collective / Nathan Trice Rituals

Central Park

MN

Dance

Thursday

Aug 11

7:00 PM

East River Park

MN

Music

Friday

Aug 12

7:00 PM

East River Park

MN

Theater

Saturday

Aug 13

7:00 PM

East River Park

MN

Dance

Sunday

Aug 14

6:00 PM

Mbongwana Star / Batida / Young Paris / Okayafrica Electrafrique feat. DJ Underdog / Pre-Show Panel

Central Park

MN

Music

Sunday

Aug 14

4:00 PM

DJ Spinna celebrates Earth Wind & Fire / Shine & the Moonbeams

East River Park

MN

Family

Tuesday

Aug 16

7:00 PM

Marcus Garvey Park

MN

Music

Wednesday

Aug 17

7:00 PM

Marcus Garvey Park

MN

Music

Wednesday

Aug 17

8:00 PM

DJ KS 360 & Full Circle Souljahs Presents: Behind The Groove / Soul Connected / Raphael Xavier

Central Park

MN

Dance

Thursday

Aug 18

7:00 PM

Tamar-kali with ASE Dance Collective / Master Class: Calvin Wiley

Marcus Garvey Park

MN

Dance

Friday

Aug 19

7:00

Nathan Trice Rituals / Harlem School of the Arts Young Dance Alliance / Master Class: Calvin Wiley

Marcus Garvey Park

MN

Dance

Saturday & Sunday

Aug 20-21

7:00 PM

Kalabantè Circus / Iron Skulls & Quim Moya / Sxip's Hour of Charm

Marcus Garvey Park

MN

Circus

Sunday

Aug 21

3:00 PM

Central Park

MN

Music

Friday

Aug 26

7:00 PM

Marcus Garvey Park

MN

Music

Saturday

Aug 27

3:00 PM

Randy Weston African Rhythms Sextet / Cory Henry & the Funk Apostles / The Artistry of Jazzmeia Horn / Charles Turner III / Master Class: Samuel Coleman

Marcus Garvey Park

MN

Music

Sunday

Aug 28

3:00 PM

DeJohnette – Moran – Holland / Allan Harris / Donnie McCaslin Group / Grace Kelly

Tompkins Square Park

MN

Music

Sunday

Aug 28

3:00 PM

GoldLink / Backyard Band / DJ Spicoli, in association with MeanRed

Central Park

MN

Music

Wednesday

Aug 31

8:00 PM

Central Park

MN

Theater
SummerStage 2016 Benefit Show Schedule