T.J. Hemphill's Stage Play "Perilous Times" at Brooklyn's Kings Theatre | April 14th-16th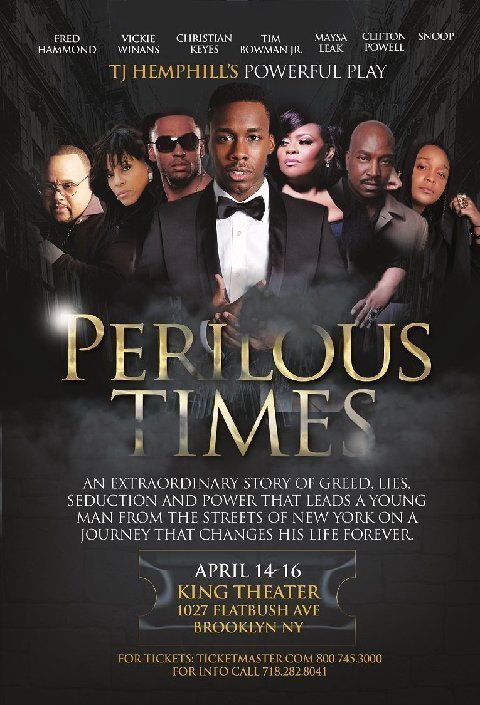 GRAMMY-AWARD WINNING RECORDING ARTIST FRED HAMMOND ALONGSIDE MULTI-AWARD WINNING GOSPEL LEGEND VICKIE WINANS JOIN RECORDING ARTIST TIM BOWMAN JR., ACTORS CLIFTON POWELL, CHRISTIAN KEYES AND SNOOP TO HEADLINE THE T.J. HEMPHILL POWERFUL STAGE PLAY "PERILOUS TIMES" AT BROOKLYN's KINGS THEATRE APRIL 14th & APRIL 15th, 2017 (EASTER WEEKEND).
(3) Show Dates & Times:
Friday, April 14th 8:00pm
Saturday, April 15th 3:00pm & 8:00pm
(New York, NY – Aprill 3, 2017) – Jammins Events proudly presents the T.J. Hemphill powerful stage play, "Perilous Times" at Brooklyn's Kings Theatre. Grammy award-winning Gospel recording artist, Fred Hammond alongside multi-award winning Gospel legend, Vickie Winans join forces with recording artist Tim Bowman Jr., Actors Clifton Powell, Christian Keyes and VH1 Love & Hip NY cast member and The Wire actress Snoop, just to name a few to headline the Easter weekend festivities.
"Perilous Times" will run on Friday, April 14th and Saturday, April 15, 2017, with five (3) big performances. Kings Theatre is located at 1027 Flatbush Avenue, Brooklyn, NY.
Synopsis: The play is a story of extraordinary greed, lies, seduction and power that leads a young man from the streets of New York on a journey that changes his life forever.
CAST MEMBERS BIOGRAPHY:
FRED HAMMOND – For more than 35 years, music lovers around the world have known Grammy Award Winning artist Fred Hammond as a gifted vocalist, songwriter, musician, producer and arranger. But as his peers and supporters alike have so reverently declared, he is without debate the architect behind the creation of a phenomenon in Gospel music, Urban Praise & Worship—a genre of gospel music that did not exist prior. Thus, Fred Hammond has become one of the most respected names in the music industry. As a solo artist, founder of the pioneering urban group, Commissioned, and his work with Radical for Christ combined, Fred has sold over 8 million albums and these endeavors have made him a mainstay on Billboard's Gospel Chart top 10.
VICKIE WINANS – Born October 18, 1953 and the 7th of 12 children, who knew that a Billboard-charting gospel icon would be found in Vickie Bowman. While singing her first solo in church at the age of 8, it's certain that Aaron and Mattie Bowman saw something special in their daughter. Growing up in church in Detroit, MI, she honed her skills and belted out songs stunning audiences time and time again. Eventually, she connected with the Winans family who helped her get another. She is also the President of her own record label, Destiny Joy her start. On the path to gospel superstardom, Winans released one hit after Records. A producer, director, songwriter, actress and comedienne as well, Winans does everything in excellence.
TIM BOWMAN JR. – A Detroit native, with lengthy roots in the music industry, it would only be a few short years into his life, that his musical destination would be determined amidst his family of musicians. His voice was cultivated with the support of his father, renowned jazz guitarist, Tim Bowman and aunt, famed gospel singer, Vickie Winans. After recording such singles as "Shake Yourself Loose" (remix) and featured on Winans' hit song, "How I a Detroit native, with lengthy roots in the music industry, it would only be a few short years into his life, that his musical destination would be determined amidst his family of musicians. His voice was cultivated with the support of his father, renowned jazz guitarist, Tim Bowman and aunt, famed gospel singer, Vickie Winans. Tim is gaining traction as one of the premiere artists in the Gospel/Christian industry and many are saying, with his vocal talent and incredibly appealing songs, he can crossover into mainstream success.
CLIFTON POWELL – An actor and comedian Clifton Powell was born in Washington, D. C, US. He stands tall at his great height. He is best known for his role of Pinky in the 2000 comedy, "Next Friday" and its sequel "Friday after Next". His performance was seen in the Indie thriller "Chain Letter", "Menace II Society" (1993). In 2009 in the "l'm Just Another Day" he played the role of Bowman. For his outstanding performance he was awarded with several NAACP, American Black Film Festival Awards for the Best Performance by an actor category. Powell appeared on small screens in early 90's. He was exposed to small screen in his early days. His standout roles was seen in Bill Duke's "Deep Cover", in "The Heat of Night" and his memorable role was seen as supporting roles for the Hughes Brother in Menace II Society and Dead Presidents.
FELICIA "SNOOP" PEARSON – Felicia Pearson is an Actress, Author, and Rapper. She is best known for playing a character of the same name, Felicia "Snoop" Pearson, on "The Wire". She wrote a memoir titled, "Grace after Midnight" detailing her troubled childhood and time spent in prison for second degree murder. Pearson met Michael K. Williams, who played Omar Little on "The Wire", in a Baltimore club. He invited her to come to the set one day and after subsequent auditions, she was offered a role in the series. For her performance in "The Wire", Stephen King called her "perhaps the most terrifying female villain to ever appear in a television series. Her acting resume has grown to include appearances in CBS's Police procedural drama, "Blue Bloods. In 2016, Felicia joined the cast of VH1's "Love and Hip Hop", a reality TV series which documents the personal lives, relationships and careers of individuals who have a history in the Hip Hop world.
CHRISTIAN KEYES – Christian Keyes was born in Detroit, Mi. He is a humble, hardworking and driven young man. An experienced actor and singer, he was labeled by Tyler Perry as "One of the most consistent male actors I've worked with". Christian has done more than 40 stage productions and more than 1,200 theatrical shows and has performed live in front of more than 4 million people while touring the country with several national stage plays. From acting and singing opposite of Brian McKnight, Johnny Gill, Vivica Fox, Shirley Murdock, Cheryl Pepsi Riley, Anthony Hamilton, Lyfe Jennings, Avant, David & Tamela Mann, Jennifer Holiday and more. Christian is a seasoned veteran and has great stage presence.
ABOUT TJ HEMPILL:
Writer/Director/Composer, T.J. Hemphill brings to the theatre world a myriad of talent. He is a gifted and talented playwright, as well as an accomplished songwriter and musician. Born and raised in Detroit, Michigan, Hemphill graduated from Wayne State University with a degree in Education. A talented musician and lyricist, Hemphill has penned over one hundred songs including the musical score of Detroit's longest running gospel musical, Perilous Times. Hemphill is also the writer and producer of several other hit plays which include, Gotta Find Me an Angel, The Return of Mr. Scrooge, Jesus The Son of Joseph, Love Won't Let Me Wait, Saving The Dream, and Road to Resurrection, all of which are soon to be released in video format.
Many of the nation's great musical and theatre talents have been featured in T.J. Hemphill productions including: Tommy Ford, Tevin Campbell, Michael Collier, Vickie Winans, Karen Clark Sheard, Shirley Murdock, Yolanda Adams, Fred Hammond, CeCe Winans, Melba Moore, Flex Alexander, Elder Goldwire McClendon, Clifton Davis, Shanice, Lisa Page-Brooks, Cherelle, Vanessa Bell Armstrong, Cynda Williams, Freddie Jackson and William Murphy III, just to name a few.
Tickets available at Kings Theatre Box Office; Online at www.Ticketmaster.com; Charge by Phone: (800) 745.3000.  For further information and/or Group Sales contact: 718.282.8041
ABOUT JAMMINS EVENTS:
Jammins Events, a forerunner in event marketing has become synonymous with producing musical festivals, concerts and stage plays in the New York area as well as along the east coast. Started in 1990, Jammins Events possess a historic 28 years of experience in event promotion and production in the US and on an international platform. Led by George Crooks, founder and president, Jammins has successfully evolved into one of the premiere event management and marketing companies based in New York. The width and breadth of the company's expertise in indoor and outdoor events grows every year.
CONNECT WITH PERILOUS TIMES:
Website: www.Ticketmaster.com
Twitter: @PeriousTimesNY
Instagram: @PerilousTimesNY
2R's Entertainment & Media PR