The 6th Annual Frederick Live Jazz Festival | June 24th-25th, 2023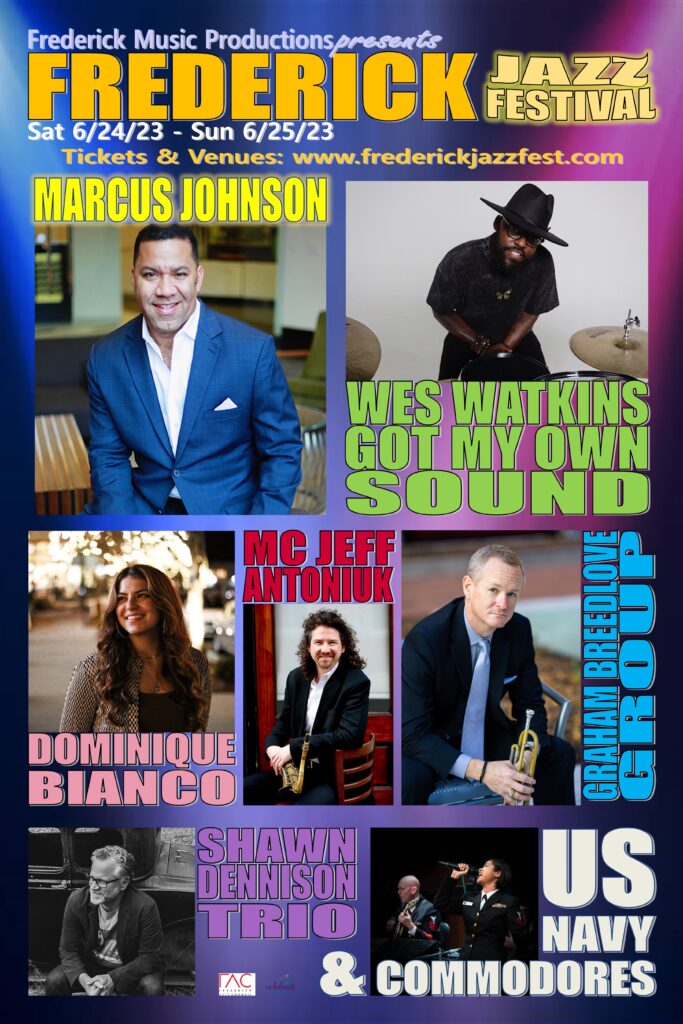 City-Wide Frederick Premiere Live Jazz Festival JUNE 24 – 25, 2023
Frederick Live Jazz Festival in its 6th year
FREDERICK, MD. (PRWEB) MAY 08, 2023 – In its 6th year, the Frederick Jazz Festival is the premier, live jazz event in Frederick, MD featuring professional and GRAMMY artists from the DMV. Saturday's lineup at New Spire Stages features headliner and Billboard Contemporary Jazz artist MARCUS JOHNSON, GRAMMY nominated WES WATKINS GOT MY OWN SOUND, and MC'd by international teacher and saxophonist JEFF ANTONIUK. The lineup at Sky Stage features internationally recognized trumpeter, composer, and member of the U.S. Army Blues Big Band GRAHAM BREEDLOVE GROUP and Downbeat Award winner and Strathmore Artist in Residence female vocalist DOMINIQUE BIANCO. DMV bass extraordinaire and go-to session artist SHAWN DENNISON TRIO will perform a special set at 10th Ward Distilling Co. And, on Sunday, the world renown US NAVY COMMODORES wrap up this year's festival at the Baker Park Bandshell.
Saturday Lineup:
Dominique Bianco – SKY STAGE 1:00pm
Graham Breedlove Group – SKY STAGE 2:00pm
Shawn Dennison Trio – 10TH WARD DISTILLING CO. 4:00pm
Wes Watkins Got My Own Sound – NEW SPIRE STAGES 6:30pm
Headliner: Marcus Johnson – NEW SPIRE STAGES 7:45pm
Sunday Lineup:
US Navy Commodores – BAKER PARK BANDSHELL 7:00pm
Made possible by the generous support of Frederick Arts Council's Create and Activate Now Recovery award and Celebrate Frederick.