Je'Caryous Johnson's "Things Your Man Won't Do" Play Kicks Off Feb. 27th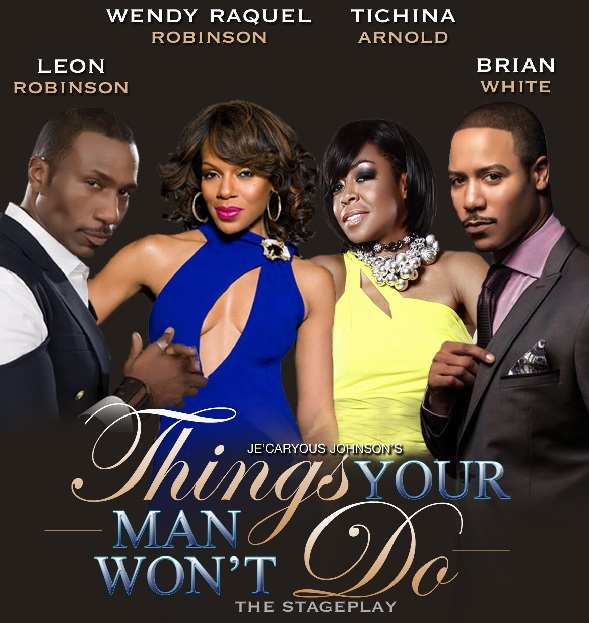 AWARD WINNING WRITER, DIRECTOR
& PRODUCER JE'CARYOUS JOHNSON
PREMIERES HIS LATEST HIT STAGEPLAY
"THINGS YOUR MAN WON'T DO"
STARRING HOLLYWOOD HITMAKERS
TICHINA ARNOLD, LEON,
WENDY RAQUEL ROBINSON & BRIAN WHITE
Limited Engagement Tour Kicks Off
February 27th in Detroit, MI
Los Angeles, CA – February 3, 2014 -From ABC's The Bachelor and Bravo's Millionaire Matchmaker to WE TV's Marriage Boot Camp and Bravo's newest hit show Friends to Lovers?, men and women everywhere are looking for that one person who can supply their every need – sexually, spiritually and socially. Whether through a TV show, a movie or even Dr. Phil, men and women are seeking answers to help heal their current relationship woes. Now, the latest comedic drama to hit stages across the country gives men and women from coast to coast a look at the love they may be longing for through the lens of other people lives. JE'CARYOUS JOHNSON'S "THINGS YOUR MAN WON'T DO," is the most recent production penned from the hands of critically acclaimed, Award-winning writer, producer and director Je'Caryous Johnson.
"THINGS YOUR MAN WON'T DO" is written, directed and produced by Je'Caryous Johnson and is the fourteenth in a series of box-office breaking hit stage plays from the NAACP Trailblazer Award Recipient. This time around, Johnson has assembled some of Hollywood's most colorfully candid and comedic actresses, along with some of the entertainment industry's sexiest heartthrobs to give "THINGS YOUR MAN WON'T DO" all the elements necessary to create one of the most unforgettable stageplays this year. Actresses Wendy Raquel Robinson currently starring on BET's hit show, "The Game," and Tichina Arnold, who became a cultural icon as Pam on the long running series "Martin" lead the star-studded cast, while actors Leon, known for his uncanny ability to transform into some of musical history's most unforgettable entertainers, including Little Richard and David Ruffin and Brian White, who gained notoriety in the hit films "Stomp The Yard" and "I Can Do Bad All By Myself," round out the big-name, celebrity cast.
JE'CARYOUS JOHNSON'S "THINGS YOUR MAN WON'T DO" kicks off on February 27th -28th in Detroit, Michigan at the Detroit Opera House. After premiering in Detroit, the show will continue to play Cleveland, OH on March 1st at the State Theatre @ Playhouse Square, Houston, TX on March 6th – 8th at The Hobby Center, Chicago on March 13th – 14th at the Arie Crown Theatre, St. Louis, MO on March 15th at The Peabody Opera House and March 27th – 28th at The Warner Theatre in Washington, DC.
Tickets for all tour dates, excluding Cleveland, are ON SALE NOW and available at all Ticketmaster locations or Ticketmaster.com. For tickets for the Cleveland engagement, go to www.playhousesquare.org. For more information on JE'CARYOUS JOHNSON'S "THINGS YOUR MAN WON'T DO," log onto www.jecaryous.com.
VIEW THE TOUR KICK OFF TRAILER – DETROIT, MI BELOW
Things Your Man Won't Do from Je'Caryous Johnson Entertainment on Vimeo.
In JE'CARYOUS JOHNSON'S "THINGS YOUR MAN WON'T DO," audiences meet Rachel Braxton, who most men would view as the perfect woman. Rachel prayed and prayed after a very tumultuous relationship for the perfect man and God sent her Demetrius McAlister. But, years later, through all the dates and after finally deciding to move in together, Demetrius still won't commit, at least to marriage that is. As audiences follow Rachel and Demetrius, they go on a non-stop roller coaster ride of raw emotion. Rachel tries to figure out if she will continue to be comfortable with her relationship as it stands or whether she will allow another man from her past to step right into Demetrius' shoes, doing all the things he won't; while Demetrius intensely ponders whether to let his fear of moving forward make him forfeit his future with Rachel forever. The high jinx antics and non-stop battle of the sexes drama makes JE'CARYOUS JOHNSON'S "THINGS YOUR MAN WON'T DO" a must see.
For almost two decades, Je'Caryous Johnson has transformed the world of urban theatre and propelled himself into mainstream notoriety and success. It all started for him with his forward thinking to turn African-American romance novels into stage plays. Some of Johnson's other hit plays have included Love Overboard with R&B hit makers Avant & Keke Wyatt, Men Cry in the Dark with Allen Payne, The Maintenance Man with Billy Dee Williams, Friends and Lovers and Cheaters with Grammy Award winning singer Brian McKnight, Confessions with the late Gerald LeVert, Men, Money & Gold Diggers with actress Robin Givens, Whatever She Wants with Boris Kodjoe and Richard Roundtree, 3 Ways To Get A Husband with legendary actor Billy Dee Williams, Cheaper to Keep Her with Vivica A. Fox and Marriage Material with Jill Marie Jones. To date over 2.5 million people have seen Johnson's shows and they have grossed over $135 million dollars in revenue.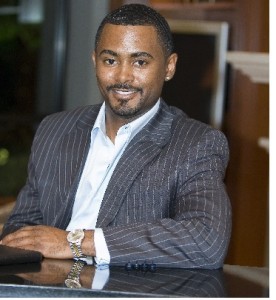 Writer, Director & Producer Je'Caryous Johnson
"I have and will continue to be dedicated to showing and displaying on stage real reflections of real people," said Johnson. "My fans have become accustomed to, not only seeing the best that Black Hollywood has to offer on stage in my shows, but also seeing situations and circumstances that they can truly relate to. That's what resonates with my audiences time and time again and as a result, they continue to support me and my shows. Whether it's how to find love, what to do when you're in love or even being unlucky in love, they get to see it in my shows and see solutions that may also help them in their lives. Some people may call my plays a platform. I call it practical living displayed in a practical, fun, unforgettable way."
# # #
FOR MORE INFORMATION ON
JE'CARYOUS JOHNSON
&
"THINGS YOUR MAN WON'T DO"
www.jecaryous.com
On Facebook
https://www.facebook.com/jecaryousjohnson
On Twitter
https://twitter.com/jecaryous